Hi everyone!
Welcome to my second wrap up of 2019. I didn't think I'd be able to read as many books in February as I did in January but I even surpassed it with one extra. All the while working a lot and even having 3 days less in the month. I had an amazing reading month and I can't wait to let you know which books I read. That being said, I read a couple of arcs I was provided by the authors, I read some amazing others and even reread some favourites of mine. I read a total of 22 books in February in the span of 28 days.In February I read the following books, with a little thought on them and my star rating on them! Here we go, in order:
1. The first book I read in February was the second book in the Bishop Brothers series; 
Keeping Him
told the story of brother Evan and omg was it a hot one. I loved the hatred between Evan and Emily, but loved the ending even more! I gave this book a solid 5 stars on the Goodreads rating!
2. The second book I finished was the incredible 
King of Scars
by Leigh
Bardugo. I've been anticipating this book so much and even though it took me nearly a week to read, I LOVED it so so much. Of course this was another big fat 5 stars from me!
3. After finishing King of Scars I continued on with the Bishop Brothers as I still had two of the books to go and I was excited to return to their Texas ranch.
Chasing Him
 has one of my favourite tropes in romance books ever, the single dad/nanny trope and it was an incredible one. John is such a dreamy guy and I loved reading his story with the baby that was suddenly dropped in his life. Another 5 stars.
4. The last book in the series was 
Keeping Him
and had another favourite
in it. The Childhood friends to lovers one is one that is either hit or miss with me. I loved this one, while I cursed out the characters in this book for being bloody stubborn, I flew through it. Do I even need to tell you how many stars this book got from me?
5. I did realize while reading the first four books by Kennedy Fox that perhaps I should've started with another series that did eventually tell the story by the brothers sister. I started the Checkmate series with 
This is War
. Another hate to love story and it was so good. The first book got three stars from me!
6. My sixth book was the second book in this duet, namely 
This is Love
it
continues on straight after the ending of This is War. I loved reading this series as much as I loved the first four books I read by Kennedy Fox. This is War and This is Love are a best friend's little sister series and you guessed it, I love that. I devoured these books so fast!
7. Next up was the next duet in the Checkmate series, starting with 
This is Reckless
. This book is the book that features Courtney, sister to the Bishop Brothers and I couldn't wait to read her story as it is mentioned occasionally through the Bishop Brothers. This is Reckless received four stars, I loved Courtney so much, her stress baking and that she and Drew started out as friends/ roommates. But UGH did I hate Drew's previous girlfriend.
8. 
This is Effortless
is the second book in this duet and again it continues
straight off from the point where the first book ended. These books are such quick reads and I liked it a lot. Courtney and Drew had a lot of hurdles to jump over before getting their HEA and I was there for them, cheering them on every single page throughout these two books.
9. Straight on to the last duet in this series. 
This is Dangerous
tells the story of Kayla and Logan. The main characters in these books are mentioned throughout the first two duets and I was rooting for them before even going into their story. Another single dad story, and I am a sucker for hot single dads (fictional ones at least). The ending to this book though, omg I was so happy I could continue straight on into the next one.
10. After the ending of the previous one, I couldn't not continue straight
on with 
This is Beautiful
. I had to know what was going to happen next and to know if this was going to end in a good way. Heck I knew it was and still wanted to know what was going to happen. I am both sad and happy that these books had ended. For some reason I would've liked these books more if each duet would've just been a single book, I am not that keen on having multiple books for one couple (with exceptions here or there).
11. Whenever Lauren Layne releases a new book, I'm mostly there. Ever since first reading books by her back in 2016, I've been hooked and this 21 Wall Street series has been on top of that list. I think 
Huge Deal
is the final one in the series, but I've loved the previous two and was SO happy for Kennedy and Kate to get their own story. They were very well hinted on in the previous two books and I couldn't wait to find out more about them. Lauren Layne will always get 5 stars from me.
12. Next on this never ending list is
The Risk
by Elle Kennedy. If you ever
want to read a quick, but incredible read then make sure to pick up anything by Elle Kennedy. She is my go to author when I want to read something funny, laugh out loud and with incredible steamy scenes. The Risk was not an exception. Back in the day I devoured the books in the Off Campus series but these spin off; Briar U series I might just love just as much. Jake and Brenna were such an amazing couple. I would love to have my own Jake Connelly, can someone make that happen?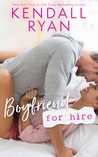 13. Next up was Kendall Ryan's newest release, 
Boyfriend for Hire
. Nic was such a dreamy guy and while he was conflicted about wanting Elle or wanting to continue on with his job, being a top paid escort, I knew he was going to keep on falling for Elle and never look back towards his job. Although I will miss his lunches with the older lady, they were so cute and I felt like he needed her more than she needed him hehe. Boyfriend for Hire received 4 stars from me.
14. For over 3 years I've been devouring any book that Layla Hagen puts
out into the world. First the Bennett family series and then straight on to the Connor's. 
Only With You
was gifted to me as an arc, I love being on Layla's VIP list and being able to read her books before anyone (well besides other bloggers on her list) can read them. Only with You was highly anticipated by me as I couldn't wait to read who Val would fall in love with, she needed someone to take care of her for once instead of her taking care of her siblings. I loved this so much, making it a solid 4 stars from me!
15. I read a good amount of Whitney G books in 2018 but I still have some to go. When I was looking for a quick but incredible read to read after my previous book, I came across
Thirty Day Boyfriend
and dove straight in. Her shorter books are fun, easy to read but they pull you in none the less. My kindle app on my phone was making extra hours this month and I don't mind one bit. I gave this book 4 stars and some incredible highlights if you ever want to check them out.
16. I felt the need to dive back into a world with familiar characters,
namely the characters that properly got me into romance books back in the day. 
Beautiful Disaster
was a book that I picked up randomly from an online story and devoured from the first pace. I think that I've read it at least 4 or 5 times over the last few years, the first time being in 2012. I loved meeting back up with Travis and Abby and my 5 star rating didn't change. Maybe not because of the book, but more for the nostalgia I felt reading this again.
17. Maybe last year or the year before, my sister was reading the next book on the train and kept laughing and pointing out things in the books, but I had yet to pick it up. 
Over Us, Over You
by Whitney G is a book that has been on my ereader for a while but I hadn't picked up yet. After reading Thirty Day Boyfriend I was in the mood for another book by her and decided to finally give this a go. I am glad to say that I absolutely loved it, I was a little sad I didn't pick it up sooner. As mentioned before the best friend's little sister trope is one I love and this wasn't an exception.
18. A few weeks ago I got an email from one of my favourite authors. Simply a news
letter but it had a sign up for this arc blast for a new series that she was participating in. 
Hold On
was the novella that she wrote in this series but it also had a sign up for other ones in the series. I loved her one, as it was a novella that could also be part of one of her series and I jumped on the chance to read it. Hold On tells the story of Killian's sister (Killian is the hero in Play On) and I LOVED it so much. Three stars from me.
19. Next up was 
All Stars Fall
by Rachel van Dyken. Also part of the same series as the one above. I had never read anything by Rachel but I absolutely loved this one and I will make sure to read more by her. I have heard a lot about her writing from people around Goodreads and other blogs and I was happy to finally read something by her and end up loving it so much as I did. All Stars Fall tells the story of Trevor and Penelope and yes is another single dad/nanny story. This one got a solid four stars.
20. The last one of the novellas that I received in this series was 
Wicked
Force
by Sawyer Bennet. Sawyer's books are a bit hit and miss with me but I really liked this one. The only downside to these being novellas is that everything is fast paced and that it's over before I realised it. Wicked Force was such a cute but incredible story and I want more more more! I might just pick up the other ones in this series eventually. Wicked Force closed with three stars.
21. The next book I read in February was one that I picked up on a whim through a romance newsletter thing I receive through email and I ended up loving it more than I ever thought I would. 
Surprise Delivery
by R.R. Banks was another first by a new to me author. I really liked this and hey, a hot doctor is always nice to read about haha. I will make sure to pick up more by this author one day and see if I'll enjoy it as much as I did this one.
22. Lastly I read another favourite of mine. Preppy; Part One is an all time
favourite, or at least the author is. I loved Preppy all throughout the other books and when he got his own series of books, back in 2016, I made sure to read them. After rereading the first 4 books in the King series at the end of last year, I finally got to rereading the three books that make up Preppy and Dre's story. Of course this received five stars from me as I will always hand Tracey my five star ratings, every single one of her books is better than the last.
And with that I conclude my February wrap up, how did you do in February? Did you end up reading what you wanted to read? Did you discover anything new that you ended up loving? Let me know and I hope to see you again soon with another post!
Love,
Daphne